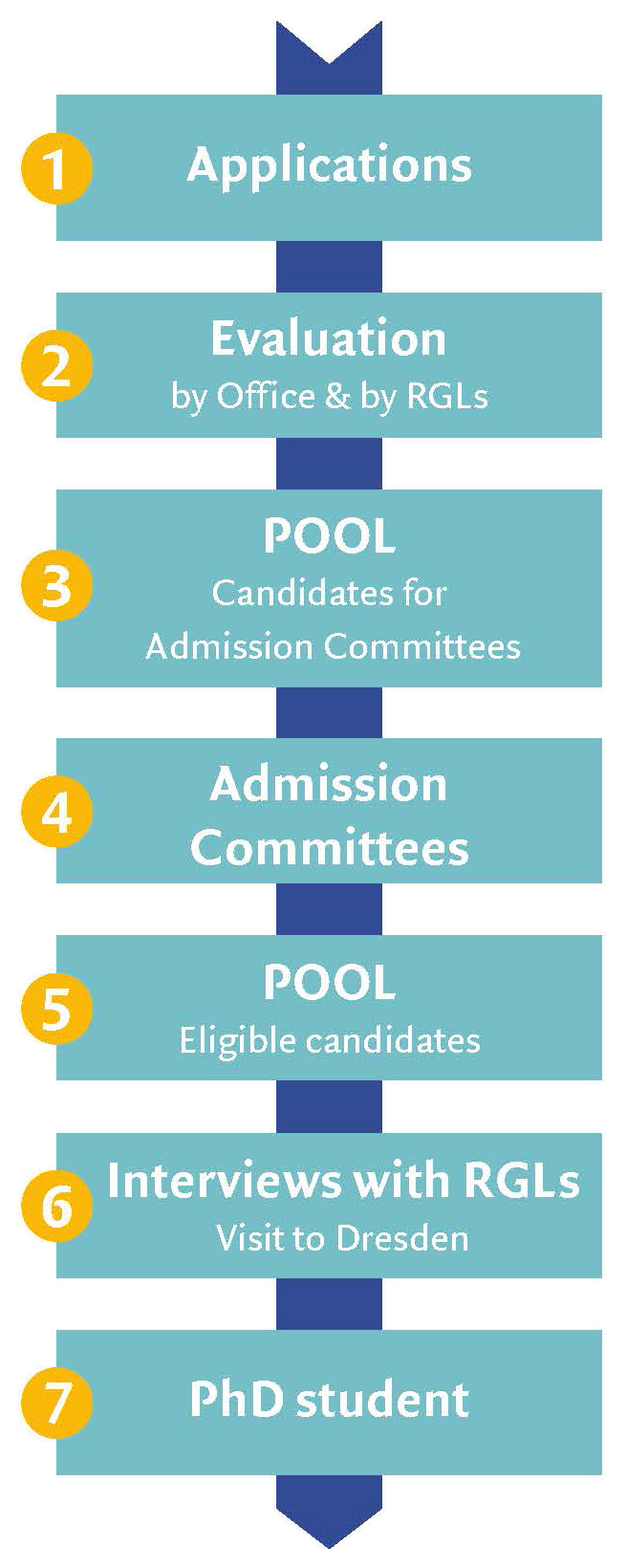 The IMPRS-CellDevoSys is pioneering a "rolling admission procedure" as a pilot project*. This means that you can apply and be admitted anytime throughout the year.

We want to evaluate you individually as a young researcher, rather than applicants competing against each other for a particular position. That's why our admission procedure can be so long, but also so flexible.

The time from application to starting your PhD can be rather variable: As short as 10 weeks (if you are qualified and meet the interest of a group leader right away), but be up to 6 months if you'd agree to remain in a "pool" for positions that will become available during that time.
Evaluation of applications
Applications will proceed to evaluation immediately after submission. The first evaluation stage checks the applicants' formal eligibility to join our program. Eligible applications will then be further assessed academically by faculty members, who recommend qualified applications for shortlisting. Shortlisted candidates will be invited to Zoom interviews with an Admission Committee. Candidates who pass the Admission Committee are eligible for admission to the IMPRS-CellDevoSys, which means that they qualify for interviewing with group leaders one-to-one in order to identify a suitable hosting group for the PhD.
One-to-one interviews with group leaders and visits to Dresden
Deciding on a PhD placement is a very important decision in your academic career, and it is important that you are in an environment where you feel 100% supported and at home in order to realize your highest academic performance. We therefore believe that it is essential for you to meet your future colleagues, supervisors, and collaborators in person and to experience our campus and the city of Dresden before making a decision. Getting to know the future environment for your doctoral research and your future colleagues is essential. It forms the basis for identifying a hosting group based on one-to-one interviews that allow you to discuss research projects and meet people.
Therefore, we normally invite candidates for a mandatory physical visit to Dresden. However, due to the current COVID-19 pandemic situation we will conduct one-to-one interviews remotely for the time being. In addition, we will make our best effort to enable you to visit Dresden and our research campus before making an informed decision.
Admission offers and start of thesis
Offers to join a specific research group of the IMPRS-CellDevoSys are granted by the Dean and Coordinator, based on mutual interest of group leader and candidate. In general, we ask candidates to respond to our offer within 2 weeks, along with a tentative starting date as agreed with the group leader. The starting date can range from 2 weeks to 6 months after receiving the offer. In rare cases, if no hosting group could be found in one-to-one interviews, we may extend an open offer allowing the candidate to find a hosting group within our program on their own initiative. In that case, placement in a specific group will require endorsement by the Dean.
*During the pilot phase please follow our Partner Program, the DIGS-BB www.digs-bb.de/join for additional opportunities.
*Pilot phase. Please follow our Partner Program, the DIGS-BB www.digs-bb.de/join for additional opportunities.